Road trip games for families: Your ultimate activity guide for kids of all ages
Road trip games for families: Skyrocket your next road trip to the list of family adventures that your kids can't wait to start, with these roadtrip activity ideas, snacks, essentials and more hacks for long car rides with kids of all ages.
A while back I was asked by a TV show if they could film us on a long car ride with kids.
I briefly imagined how that show would be about as boring as watching cows grazing on a field and took a raincheck.
You might be wondering, how a roadtrip with two kids can possibly be that relaxed.
I'll tell you.
100% independent thanks to your click
If you buy something via our links, we receive a small comission (you don't pay more). This allows us to continue bringing independent, honest tips and hacks straight to you. Thank you for your support.
The nutshell for moms in a hurry: You only need little preparation time to have a relaxed road trip with your kids – without placing them in front of the tablet or cell phone all the time.
You'll even see, how it's fun and everyone will be looking forward to the next  drive. Here's your game plan:
Make it a special day for your kids
Get them a car travel tray, so things don't fall down
Bring some games that they can play alone
Have some family quiz games up your sleeve for when they get bored
Bring a kid's bluetooth headset with audio books and/or music (e.g. using the free test version of Amazon Music Unlimited)
Prepare some quick travel snacks
Make sure you take power-breaks to release all that pent up energy
Are you up for concrete family road trip activity ideas for all ages from baby to junior school? Proven to work on many long road trips to grandma and on our travels around the world.
Let's dive right in.
Pin me:
I get car sick real quick when I'm sitting in the back of the car with the kids.
So I had to come up with solutions for the kids to stay happy on the backseat by themselves at a pretty early age. Or at least with ideas to keep to entertain them from my front seat.
Meanwhile we had plenty of chances to testdrive those ideas and my kids are truly looking forward to long car drives. Completely without watching movies or playing on the tablet.
So, how do you manage to do that?
I'll first give you some essential hacks followed by a large array of activity ideas for the different age groups from baby and toddler to school-kids.
1. Road trip hacks for long car rides with kids
1.1. Make it a special day
So you found a great holiday home and are looking forward to unplug for a while. You can use exactly that anticipation for the drive – just with a little tweak:
Sell the drive to your kids as a "Fun Day" on which they are allowed to do some extraordinary things,  have a lot of fun with mom and dad and eat special things that they usually don't get.
Announce for example, that they will get a suprise bag that they can look forward to (more on that in a bit). And in the end, they'll be at grandma's or at a vacation on the beach. But that's just the bonus for them. The really cool thing was the drive.
It sounds trivial. But especially in the beginning of the drive it makes an enormous difference.
My hack for a relaxed day on the beach: If you have a beach tent like this one, finally nothing is going to fly away anymore and you got  shade for the whole family.
The next hack is also super simple but works like a charm.
1.2. How to prepare your kids for a boring long car ride?
e
Mum, are we there yet?
Imagine you are at your doctor's office. Sitting in the waiting area with your eyes frequently checking who's walking by in the anxious hope that your name will finally be called.
It feels like forever, right? Did you ever count how many people were there before you? Did that help?
That's how it feels for your kids when they just can't grasp know how long the drive is still going to take.
So what can you do about that?
Before the trip, speak to them about what to expect (and what you expect from them).
And don't be shy to exaggerate. Because everything feels longer for kids:
"We'll be driving in the car for a reeeeeeeally long time. We'll have to stay in our seats all the time, but you can do… for as long as you like. And then we'll take a long break to play. After that we'll again be driving for a loooooooong time. But we'll take all kinds of thing for you to play. So if you get bored you just tell me and we'll think of a game. How does that sound?"
Probably your kids will have some ideas of their own, what they want to do in the car. Note them down, use them.
If they know how the day is going to go, they have a better idea of where in the day they are. And you have an easier time explaining.
1.3. How do your kids not drop stuff in the car all the time?
Mom, my book fell down! Moooom, I can't reach it! Moooooooooom!
Fishing things from the floor for your kids is not only annoying. If you are driving alone it's also outright dangerous.
THE best solution for this problem is a car travel tray. It stays lying on your kid's lap while being fixed around the child seat with a strap, so that it cannot move around.
All sides have a little "bump" so that nothing falls down. Even small cars, pens and other things that love to roll off will be stopped. They can store their pens and other little treasure in the many side pockets.
You can totally create a DIY-tray, for example by using a small (and light) baking tray and some fabric. I'm not really good at such DIY-stuff, so we just bought them. And we are super happy with them.
Extra-Hack: Take a tray that your kids can directly draw on and erase it again (just with a paper tissue). Like this it's a special kind of toy, which is only used on long drives and therefore especially interesting.
A word of warning about backseat organizers that are often recommended: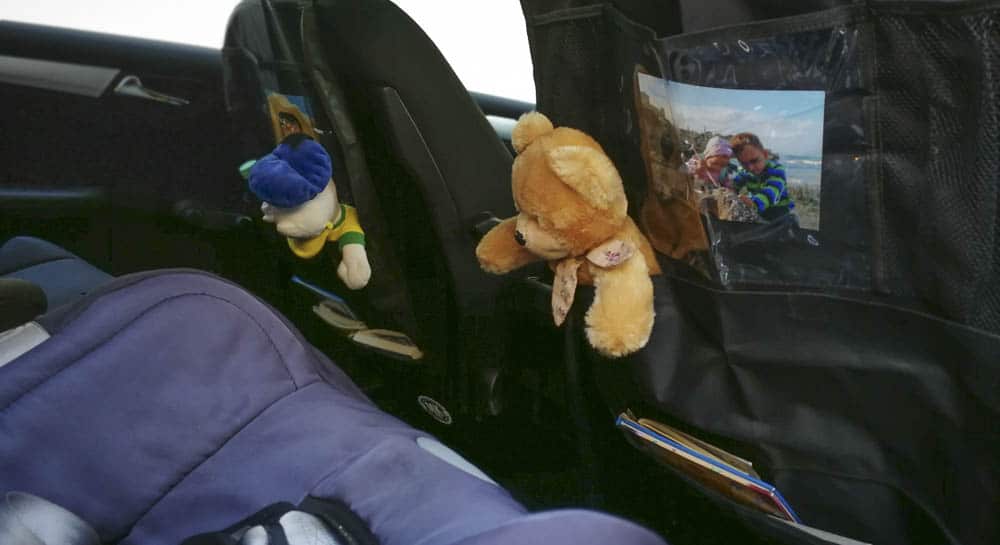 Often backseat organizers are recommened for long drives with children. When really they are only semi-helpful.
Don't get me wrong, they are awesome to store toys and other stuff. The problem is, that small kids cannot reach them by themselves during the drive. Which they are not too amused about.
Only bigger kids, who are buckled up with the actual seat belt of the car can reach it. So backseat organizer are great for kids from about 5 years, but not for younger ones.
So what do you put in that surprise bag you promised the kids?
1.4. Pack activities in a surprise bag
The surprise car bag (for each kid) can contain small toys, snacks or vouchers (which can be redeemed immediately – e.g. du decide the next song, you may sit in the front after the next break…).
The special clou is that each item is singally wrapped. So that there's always something new and exciting to discover.
For small kids, the actual unwrapping is a highlight by itself. For older kids you can put numbers on the presents and let them quess what's inside or put small quiz questions on it that they need to solve before opening it.
In order to not create an enormous pile of trash on the back seat with this, you can use reusable jute sacks or simply a couple of socks with a ribbon. Also bags that you are going to need on the trip anyway are a good option.
You have several options how to pack the bags and what to put inside. Here are some ideas:
You could prepare one big bag with many small surprises. However, for my kids the result was that they wanted to open all presents right away and didn't actually stay busy with the single items for as long as I had hoped. The older your kids, the better this is going to work. Your best bet is to make a deal with them. Like you can open one present every 30 minutes.
This is why our suprise bag is always just a small snack bag, which they can keep and eat at once if they really want to. My kids are so looking forward to this every time. On top of the snack bag, I have a bunch of small activity presents in my own bag and I hand them over singally as the moods get low.
Now you are probably wondering which snacks you can put in the snack bag
1.5. What are the best kids travel snacks for long car rides?
Mooom, I'm hungry!
Snacks are wonderful – not only to satisfy your kids's appetite but they also make for great entertainment for kids in the car.
To keep your kids busy as long as possible, choose snacks that

your kid can eat without help
are small
need to be tinkered with a bit.
Also make sure that there are some special things included, that your kids don't eat so often (for us it's gummy bears).
Some other ideas are: Small pretzels, fruit bars, musli snacks, tiny saussages or babybel cheese (watch the temperature), raisins, crunchy dried fruit snacks.
Next to this snack bag I always have some snack cups with fruites and veggies (mini-carrots, mini-cucumbers, cherry tomatoes, blueberries, grapes, apples, etc.) with me. In the car we like to use these snack cup because food cannot fall out of them.
To avoid your kid's water bottle from taking a dive to the floor frequently, we use this cup catcher. Your child can just pull the strap and eventually the bottle will show up in her hand.
1.6. Should you pre-plan your breaks on long car rides with kids?
Does this sound familiar?
Everyone is hungry. Everyone needs to pee. But there's no place to stop anywhere near.
If you are travelling with kids – and hungry dads – the moods can turn very quickly.
Before you leave, take a quick look at possible stops for breaks. That's also possible if you don't know the area so well:
Plan to take a break every 2 hours
Plan enough time for the break so that your kids can run around and release that pent up energy
Find interesting places (like a lake, a castle, a small town)
Or find service areas that have a playgroun (you often find those at fast food chains too)
Extra-Hack: Put some chalk in your bag. With that you can quickly draw a few hopscotch squares or draw some circles to come up with your own version of island hopping. If your kids are anything like mine, they'll quickly come up with their own ideas too
1.7. What's the best time to start a road trip with children?
It's often recommended to start driving shortly before nap time, because many (younger) kids sleep through the drive then.
If your kids are very small (like baby small) and like to sleep in the car, by all means go for it. It works brilliantly.
Since my kids got older, we have tried all sorts of variants:
Starting after dinner does not work well, because we adults are too tired to drive long.
Starting after lunch does not work well, because the kids are so excited, that they end up not taking any nap and are even more whiny.
What can you do then?
We usually start driving, so that we take a lunch break after about 2 hours. Until then the kids are well rested and in a good mood and after the break they spent all that pent up energy and are calm again.
Your kids are different than mine, so in the end you can just try different things and stick to the one that works best.
1.8. Should you change the seating positions in the car?
It's a true highlight for the kids, if they are allowed to sit in the front for a part of the trip (that could also be one of the presents in their surprise bag).
Apart from that, take a minute to think about the direction you will be driving most and where the sun is going to be then.
Because if you have only one kid or a big car, you might want to move the child seat to the side that's not in the sun. Otherwise your child will get super warm and be annoyed to have sun in her face all the time.
1.9. Why should you not just give them a tablet or smartphone?
Well, it depends on your kids. I do this extremely rarely.
Simply because it's always difficult for my kids to stop playing or watching again.
If you know that your kids accept a time limit without compaining, then go for it.
Extra-Hack: If you decide to give your kids a table or phone, speak about the time to switch off beforehand. That time should be an event rather than a time (say "until the next break" rather than "for 20 minutes"), so that your kids can process that better.
Since screens don't really work well with my kids, I prefer to come up with some alternative activities.
Which ones? I'll tell you right now.
You can directly jump to your kids's age here or keep scrolling:
2. Long car rides with a BABY: What can you take?
Small babies and infants don't need a lot of entertainment yet. They are happy with the simplest things. Still, you should have a few options at hand:
Mirrors: Babies are fascinated by looking at themselves in the mirror. If you don't have one with you, let your baby hold the rear seat mirror for the infant carrier for a while.
Packaging: Take for example some paper sandwich bags (you know, the ones that crackle so nicely) and draw something onto them. You can also put a small toy inside.
Sock monster: If you really want to get your baby cracking up, put a sock over your hand and play the sock monster that wants to eat their hands and feet.
Finger plush toys Finger puppets are small and great when the sock monster got too simple.
Bottles: Quickly fill an empty water bottle with a few stones, rice, etc. That'll keep your baby busy for a while. Make sure it's well sealed of course.
Family Photos: Print some photos of mom, dad and other important people in your baby's life and attach them so your child can easily see them. You can also laminate them individually and attach them to a toy chain.
Finger Play: Learn a few finger games like Itsy Bitsy Spider, etc. (if you don't get nauseous in the back).
Sensory books and other unbreakable books are great for very young kids.
Breaks: Remember that babies need their breaks too and be careful not to over-stimulate them.
Also check out the ideas for toddlers, maybe some of those already work for your child.
3. How to keep TODDLERS busy on a long car ride (1.5-3 years)?
While small babies still sleep a lot in the car and don't need that much entertainment, toddlers are a different story.
If your kid is 1.5 years or older, I bet she challenges you quite a bit. That being said, some of the ideas for babies above still work for toddlers.
But here are a few concrete ideas for activities on long car rides with toddlers:
Treasure chests: Pack 2-3 small treasure chests for them to discover. Now, don't worry you don't need an actual treasure chest. An old camera bag, toiletry bag, etc. will do. Just add some odds and ends from your household or kid's room.

Photo Book: Print a small photo book on thick pages with pictures of the family and add some fun clip arts of animals, teddy bears etc. Your child can look at this by herself or you talk about it and tell a lot of stories about the people in the pictures.

Water Wow:

Creating coloful pictures without making a mess in the car. Our little one could hold the pen well enough at about 2 years old.

A small drawing board

Toddler are busy for ages with the magical magnet game. Basically the kids just push little balls in and out but it holds a strange fascination (even for the older ones).

Building blocks:

In the car? Yes. You could use a large lunchbox and glue a Lego Duplo board on one side and put building blocks on the other. Also works with a shoe box if you have a

car travel tray

for your kid. It lets you play with more building blocks too.

Magnetic mazes let your child move magnets back and forth. The best part? They are behind a transparent board so they can't fall off.

Animal quiz for toddlers: You can also play a first quiz game with toddlers. One option is the animal sound game. You simply say an animal name and your child makes the sound. "How does the cow sound?"

Headphones: Starting at age 2, my kids got their own toddler headset. You can find more tips on this and even more guessing games below in the ideas for kindergarten kids.
Apps: In case of emergency, I have installed a few apps for the little ones on my phone. I've never actually used it in the car, but it's reassuring to have an ace up your sleeve.
4. What are activities for KINDERGARTEN KIDS on long car rides (3-6 years)?
4.1 My joker to keep kids busy in the car: Headphones
This is my #1 lifesaver on long car rides with kids: kid's bluetooth headset.
In our family, the kids use headphones only on trips, so it's always something special and they are super happy to allowed to use them.
My little one (now 3 years) loves to listen to children's songs, which she also already knows from kindergarten (she currently still uses wired children's headphones for toddlers). My big one (age 6) is spellbound by audio books for hours.
Before any major trip, I make sure I have 1-2 (or more) new audiobooks for him. Where do we get all the audiobooks?
4.2 Our audio book and music tips for long car rides with kids
We now use Amazon Music Unlimited for this. It allows me to turn on audiobooks for my son without having to hand him my phone.
And I can download them beforehand, so they're available offline and don't eat up my data.
By the way, you can test it 30 days for free, so if in doubt, just use it for vacation and cancel afterwards ;-)
Extra tip: You do not need the family membership right away. It's great if several people want to listen to different stuff. We usually enjoy the quiet, talking, listening to a podcast or audiobook on Audible.
For our younger one, we just use an SD card with some audio books or music on it. So at least when your kids are younger you can save the extra money for the family membership.
4.3. Road trip activities your kids can do by themselves in the car (3-6 years)
Magnetic games

ensure that things don't fall to the floor all the time. Even if the smaller ones don't quite play according to the rules, they are kept busy for a while.

Small figurines, cars, dinosaurs…, if you have a knee tray for the kids. You can wrap these up as little surprises – not everything has to be new. But maybe one new toy in the mix will spice things up a bit. Extra tip: If you have several children, give them new toys that are similar. So that they can play together and swap.

Drawing and colorin is a classic. But a simple block (or better, a notebook) and some crayons don't knock all kids off their feet. They surely don't with my son. But with a few tweak even lazy painters might find their passion: 

Wipe Clean activity books

,

Coloring Wonder books

For crayons not to tumble around everywhere, put them in a

roll up pencil wrap

Books: We always have a box full of books in the car. For long trips, however, I'll dig out some books that the children have not looked at for a long time or I just get a few from the library.

Activity books from 3 years

: Once you went through some of those tasks with your kid at home, she'll understand what she's supposed to do and can then do them on her own.
4.4 Free games for children and parents on a long car ride (3-6 years)
You will reach a point, when your kids won't want to play on their own anymore. Then it's time for car games.
You can play these games from the front seat and without a lot of concentration on your part. That's especially important if you're traveling alone with a child.
Here are our favorites for kindergarteners:
Nonsense stories:

You say one sentence, your child says the next one, and so on. To make it a little more fun, we like to use a

pointing dictionary

with pictures of everything from toilets to crocodiles to hospitals (any book with lots of little items in it will also do). My kids pick a picture and that has to be incorporated into the next sentence. Stories come out like, "The fox was terrified of the coffee cup and hid in a spaghetti package" and the kids laugh their heads off

Travel bingo: One person decides what to look for (e.g. red cars), then each of us looks for 5 red cars. Whoever sees the fifth one calls out "Bingo" and everyone joins in. Then the next child decides what to look for.

Animal desriptions: This is for younger children. An adult or older child describes an animal and the little ones guess which animal it is. "It can fly, it is white and swims in the lake in the park where we always go…".

Animal quiz: The more challenging version for older children. One person thinks of an animal, the others ask questions about it, which he or she may only answer with yes/no. If it takes too long, they can give a hint. Watch out: explain to your child beforehand that it should not be a fantasy animal or you'll have a really hard time ;-)

Car colors: What color is the next car coming from behind going to be? Everyone calls out their guess and cheers when it's correct.

I spy with my little eye something that is …: This is a bit difficult on the highway, but it still works with things in the car or especially well in traffic jams. With a little practice, even children as young as 3 years can do it.
5. What are activities for SCHOOL KIDS on a road trip (6 years and older)?
When your kids can read and "play" with letters, a whole new world of activity options opens up. This also makes it easier for them to play by themselves and for you to focus on the road.
However, many of the activities for kindergarten kids still apply to elementary school age. As I said before, a table or car travel tray is often useful for this.
Here are a few ideas for schoolkids.
5.1. Activities that keep schoolkids busy in the car on their own
Children's podcasts: If you are looking for an alternative to audiobooks, there are some really nice podcasts specifically for kids. Our favorites are: Sendung mit der Maus (from 6), Wissen macht Ah (from 8), der Ohrenbär (from 4-8 yrs), Weißt du's schon? – Das Hörrätsel für Kleine und Große (from 3), Kinderhörspiel – Deutschlandfunk Kultur (from 7).

Magnetic games:

The

SmartGames

label, created travel games in book format, each of which has around 50 puzzles to place in a book. Perfect if your child is a little tinkerer. For this you should have a  

car travel tray

, otherwise the magnets they aren't using will vanish in the depths of the back seat.

Child camera

: With a kids camera, you don't just get completely different vacation pictures (which are sometimes really cool). Your kid can experiment with fun effects on the photos and (if you unlock it) play some little games.

Legos in a lunch box: For Lego fans, you can also glue a Lego base plate in a lunch box instead of the Lego Duplos for the little ones and let them build stuff on it. The big advantage of Lego over Duplo is that the box can hold many more building blocks.

Puzzle books: There are countless varieties for school children. We like the Gritty Kids and crossword puzzles.

Exciting book: For little bookworms who don't get car sick, there's nothing better than a new exciting book.

Joke books;

Your child has something to read and you might just all have a good laugh together.

Small cars, dinosaurs and figurines still go well with elementary school children

Finger knitting

can keep creative little minds busy for ages. And in the end, they have new scarf for Teddy or a gift for Grandma. However, you should have practiced this at home so that your child can do it on her own. It's explained in this

Video

.
At some point, your kids are bound to get tired of playing alone. Then your travel games and guessing games come into play.
5.2. Two-player games for schoolkids on a road trip
These games work well if you have several schoolkids in the car or if you can play as a passenger.
Magnetic car bingo

: You look for objects on the road. The first one to fill a row calls bingo. You can also draw/print this game yourself on a sheet of paper and laminate it.

Categories: The classic game where one says A and then goes through the alphabet in their head and the other says stop to find the first letter. Use the letter to write down a country, city, and other categories (e.g. food, animals, superhero, clothing, etc). Whoever finishes first calls stop and everyone has to stop. For each correct answer you get 1 point, if you are the only one with that answer, you get an extra point.

License plate bingo: The kids write down 5 license plates beginnings. Then dad or mom announces which license plates the passing or overtaken cars have and the kids cross them off. The first one to have them all gone calls bingo and wins.

Battleships:

Everyone places their ships and the other person guesses where they are. You can also simply draw this game on a sheet of paper.
5.3. Free car games for long car rides with children over 6 years old
You can play these games with your kid even if you are driving. You only need your head.
Categories: As described above, but without writing down and counting points. You just choose a letter and name all countries you can think of with that letter. You can also add some simpler categories, like animals, TV characters, professions, etc.
Where did we go? One person quietly thinks of a place from recent vacations and the others ask questions that can only be answered yes/no. Also works with animals, professions, etc.
Would you rather? This game is not only fun, but also makes you think and you might learn a thing or two about your children. Here's how it works: One person has to answer a "Would you rather?" question and explain why. The others think of a good question. E.g. "Would you rather be green or go to Mars for 1 year?", "Would you rather have summer all the time or winter all the time?", "Would you rather spend the night in the desert or in the jungle?"
I spy with my little eye something that is …: At some point it gets boring, but younger schoolkids still like to play it. This game is best played in a traffic jam, when not everything is whizzing by on the sides. But there is another variant for the journey:
I spy with my little eye something that I packed and start with the letter…: In this version one of you thinks of an object that was packed and says the first letter. We packed something that starts with T, what do you think it is? Now everyone can take a wild guess and whoever gets it right first won.
Mental arithmetic: Very simple, but some first and second graders have a lot of fun doing multiplication tables or adding numbers. Just give them a few exercises.
License plate nonsense: Use the first letters of the license plates to make funny sentences. For example, 8YNN887 becomes "Yummy needles negotiate." You can even build a whole story this way.
Word chain: Another classic that always works. One person thinks of a two-part word (or 2 words). The next person has to say something that starts with the second part, e.g. flowerpot – pot color – coloring shop – shop owner – etc.
Guessing capitals: One says the country, the other says the capital. Of course, you can also guess countries the other way around. Only do this if at least two of you are pretty good at it, otherwise it's no fun.
Letter prison: You choose a letter and a candidate. The candidate is stuck in a letter prison and may answer all questions asked to him only with this letter. The others ask him 10 questions, then it's the next one's turn. This can be tricky and usually gets pretty funny. For the letter M, the answer to the question "Where are you going?" might be the moon, the answer to the next question "What are you doing there?" Mowing the lawn, and "What's for lunch?" Mussels. But even questions like "Would you like ice cream at the next break?" shouldn't be answered too quickly with "yeees", but better with "my favorite kind, yes".
6. Things to AVOID on long car rides with kids
Small parts: If you don't have a table or a kneeling tray, don't give your child more than 2 small pieces to hold. Lego & Co. are a no-no then.
Felt-tip pens: Avoid those that you can't wash out of your clothes. Take either colored pencils or washable markers with you, because they will certainly end up on the clothes or even the car seat at some point.
Sticky foods: chocolate, icing and the like are not only unhealthy, but also stick to your kid's hands and just make a mess. Keep a pack of wet wipes handy just in case, and it's best to avoid sticky food altogether.
New puzzle games: You'll quickly get frustrated if your kid keeps asking you what she's supposed to do on a new game. So either try things at home or be sure your child can read or understand the instructions.
Noisy toys: Anything that rings, trills or tinkles will eventually get on your nerves. The baby rattle may still be okay, but the toy car with the siren might be too much.
Flying toys: Balloons, small airplanes to assemble and other things that encourage throwing and flying are great on vacation, but can be very dangerous in the car.
7. SUMING UP: Activities for kids on long car rides
Please believe me when I tell you: it's worth investing a little time to prepare and then have a relaxing drive with the kids. I hope with these tips, your kids will never complain about dying of boredom on a car ride with you.
Now I'm curious to hear from you. What game will you try on the next car ride? Do you think your kids will nag less? Do you have another favorite game that is a big hit with your family? Comment below.
All the best,
Eva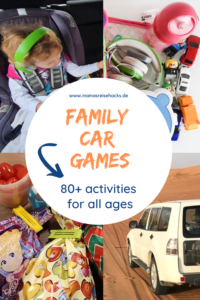 *This post contains affiliate links. If you click on links that I recommend, you support this website. You don't pay anything extra. But if you buy something, I get a small commission. I only recommend products that I use, love and am convinced of.
Der leichteste Weg zum entspannten Flug mit Baby und Kleinkind
All-You-Need Shoppingliste
Kinder-Gepäck Übersicht
Handgepäck-Checkliste...
Wir schicken dir das 3-teilige Fliegen mit Kind Einsteigerpaket im Tausch für deine E-Mail Adresse zu. Falls Du dies nicht möchtest, kannst Du es auch hier erwerben.